Reading is an invaluable life skill, which enables students to thrive in their learning and in their lives. Accelerated Reader forms a vital part of the key stage 3 English curriculum. Every Year 7 and 8 class has a weekly (Year 7) or fortnightly (Year 8) 30 minute, Accelerated Reader session in the Library as part of their English lesson. This allows students time to read, quiz and participate in coaching and intervention activities, led by their English teacher and the librarians, all of which support students in developing their reading skills. Reading and progress are closely monitored by class teachers to ensure that students actively participate in the programme by reading for 20 to 30 minutes daily and quizzing regularly. This approach aims to cultivate a culture of reading for challenge and reading for pleasure in all our students.

At Rushden Academy, Accelerated Reader (AR) is run with our Year 7 and Year 8 students. AR is a web-based resource which holds quizzes for hundreds of thousands of books. Students will choose a book from the AR section of the Library and, once they have read it, will take a quiz on that particular book.
Students take a reading assessment, called a STAR test, three or four times a year. The test will use questions designed to assess a student's comprehension of texts and should take approximately 20 minutes. The results of the test will show us what reading age that students has and what level of book they should be reading. This is called the Zone of Proximal Development (ZPD) but in school we always refer to the ZPD as book levels as that is how our books are arranged on the shelves, in book level order starting at 1.0 and going up to 13.0. A student's STAR test will always give them a book level range rather than a fixed number, so that they are able to access books that are easy for them, books that may be a little harder and some more challenging books. For example, Year 7 student John Don has taken his STAR test and has been given a book level range of 3.9 – 5.9. We would recommend that he starts towards the lower end of his range until he feels confident to progress towards the top end. These conversations are had with all students during their AR lessons in the Library. Teachers and Library staff encourage the child to take the best book for them and offer advice depending on their progress, interests and feelings that day (we all like different things on different days!).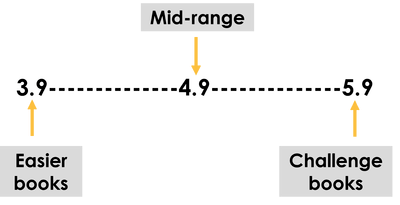 As an example of the books available at these levels:
Tom Gates: Extra Special Treats (…Not) (Liz Pichon) AR Book Level: 3.9
Dork Diaries: Drama Queen (Rachel Renee Russell) AR Book Level: 4.9
War Horse (Michael Morpurgo) AR Book Level: 5.9
This ensures that students are able choose their own books based on their interests and still have control over what level of book they would like to read on different days. Staff may also sometimes advise students to try either an easier or harder book depending on the progress they are making with their quizzing.
The quizzes are designed to ensure that a student has not only read the words on the page of the book but has also been able to understand the book from a comprehensive level. Each book is also worth a certain amount of points and students will earn a percentage of those points every time they pass the quiz. Each student will have their own points target to reach during each term. A pass is set at getting 60% of the questions correct, with achievement points being given to any student who scores 90 or 100%.
If you would like to know any more about Accelerated Reader and how it works, please follow the link below to an information sheet from Renaissance Learning, the creators of Accelerated Reader.
Renaissance Learning Information
Accelerated Reader has hundreds of thousands of quizzes related to fiction books. If you would like to check any of the books you have at home to see whether your child could use that as part of their AR journey, then please use the link below:
Accelerated Reader - Book Lookup
Select parent or student
Type in either the ISBN (the barcode number on the back of the book), the author or the title of the book
If the book is on AR all of the book level, points and quiz information will appear on the screen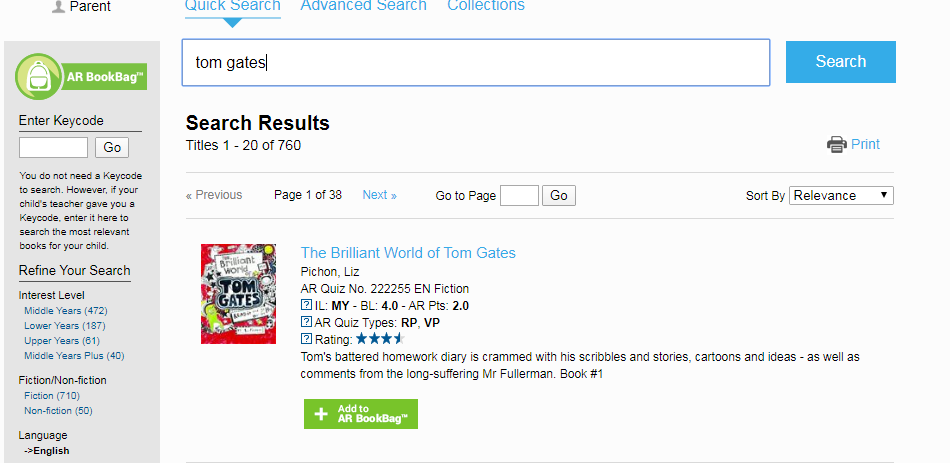 If you would like any further information about Accelerated Reader, please contact the school.